Micer Mascó, 2, 46010 Valencia
About the school
Academia La Pagoda is a school specialized in teaching Spanish to foreign students. It offers a wide range of services directly related with the education and the formation.
During the last course, almost 2.500 students attended to our lessons, which highlights the quality of our school.
The school was founded in 2013 and nowadays it counts with a teaching board of 9 teachers highly specialized in the subjects they teach. Among its formative programs, we highlight the language teaching.
DESCRIPTION OF THE FACILITIES
Academia La Pagoda is located close to the University of València and Plaza de la Virgen, near the city centre. You can arrive taking the underground (lines 5, 7 and 9) or several bus lines. The school has six fully equipped classrooms, staff room, an open access library and loan service, resting areas, 4 bathrooms and a vending machine.
Courses
GENERAL SPANISH COURSE: we know that your needs change, so that is why we offer the possibility of changing your course each month. We offer courses of 4, 6, 8, 10, 15, and 20 hours per week. The Spanish courses allow you to choose your own schedule each week. You only need to call us and book your schedule. You will need a minimum of the 80% of the attendance to receive an "Attendance certificate".
Types of courses
INTENSIVE SPANISH COURSE: The intensive courses are especially thought for those students who are going to stay for a short period of time in the city and want to learn as much as possible, or for those students who need a VISA. Each student can attend the Spanish lessons as many times as he/she needs, at a pace of 20 hours per week. Moreover, we offer you a linguistic tutor. The linguistic tutors are teachers who monitor your progress. When you start a Spanish course, we assign one of the most expert teachers to solve any doubt you may have. Each fortnight you can hold a meeting with your tutor and talk about your needs when learning. SPANISH À LA CARTE: Individual lessons where the student works with the aspects he/she considers necessary. They can be booked at any time and can be used as a reinforcement of the general and/or intensive Spanish courses.
Workshops
SPANISH FOR SPORT: in our school we offer Spanish lessons especially designed to athletes. Thus, we help the student to know in depth his/her sport in Spanish in order to be able to train comfortably. Moreover, there is also the possibility the combine this program with any sport training.
Exam preparation
DELE EXAMS: the courses to prepare the DELE exam (levels, A1, A2, B1, B2, C1 and C2) are addressed to those students who have passed the level they want to obtain in the DELE exams. They last from 4 to 6 weeks. These courses are intensive and demanding. The teachers of these courses have experience as DELE examiners. SIELE GLOBAL EXAMS: the necessity of achieving an official certificate quickly makes the SIELE exams the best option for those students who do not have much time. In this school we prepare our students to attend this multilevel exam (A1-C1) and also Academia la Pagoda is an accredited examiner centre. CCSE EXAMS: if you want to have the Spanish citizenship, we will help you to pass the CCSE test, needed for this process.
Teachers
For our school, training and dealing with the student is the most important. We want you to feel at home and, for this, we offer you a group of qualified professionals with extensive experience in teaching Spanish to foreigners.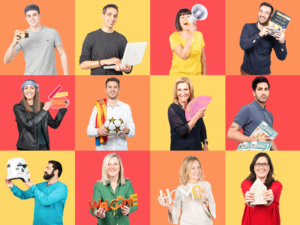 Accommodation
Academia La Pagoda offers accommodation in a student hall placed very close to the University of València and the Polytechnic University of València. Moreover, it has a private bus service for those students who study in other centres. There are several types of accommodation. There are single or double rooms, with bathroom, phone service, heating, air conditioning, study area, gym, leisure rooms,laundry service and dinning room. The Colegio Mayor Ausias March also has common areas, TV room, coffee machine, dinning room, free Internet access and reception service 24 hours.
Activities
Valencia from the heights
 Discovering the city
Trip the City of Arts and Sciences
Christmas workshop
Gastronomy workshop
Valentine Day workshop
A day in the kitchen
Mascletà
Exposició del Ninot
Fallas workshop
Sport in the beach
The Horchata trip
Tabarca