Urbanización Tancat de l'Alter S/N 46220 Valencia
About the school
Our schools are located in the best and safest residential area of, Valencia. We have a wide catalog of high quality programs and a great diversity of cultural and sporting activities. Designed for children from 9 to 17 years old
Our Ausiàs March International School, located in one of the most exclusive areas of Valencia, you will be able to study in an area of 20.000 square meters, with large outdoor sports facilities such as football pitches, basketball, tennis courts, private swimming pools and a solarium.
Download brochure
Courses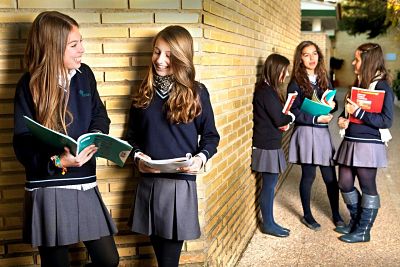 ACADEMIC YEAR: The student is integrated into the academic course that corresponds to their school situation of home country. Guarantee that no more than five students of the same nationality and language are in the same school. We handle all necessary to certify accredited studies so that student may return to their country with documentation for credit in their educational system. http://www.ceiam.com.es/Academic_Year.pdf
ACADEMIC YEAR INTERNATIONAL BACCALAUREATE:  The IB World Schools share a common philosophy: a commitment to rigorous, high quality international education, which we consider important for our students.
Types of courses
SUMMER CAMP: This intensive course for age groups between 12 and 18 years is available all year. These courses allow you to live a unique and intense experience where students not only learn Spanish, but also are immersed in our culture, history and customs, living like another Spaniard.
FAMILY IMMERSION: Language immersion program based on coexistence with a Spanish host family. Every family is carefully selected and will treat the student as a family member. Students participate in daily life and activities of the family (family visits, shopping, cultural activities, etc …)
Exam preparation
We offer exclusive specialized courses in preparation for DELE and CCSE (Diploma of Spanish as a Foreign Language)..
Special courses
ACADEMIC SHORT-STAYS: Course duration is between 4 and 10 days at our International School Ausiàs March in Valencia. Students will have the opportunity to experience cultural immersion, sharing a daily class time with our Spanish students, combined with social, cultural and sports activities, through a program developed for each group.

TURISTIC MINI STAY: A stay between 4 and 10 days in any of our school of, Valencia. Students will have the opportunity to enter the Spanish culture through social and recreational sports activities. Ideal for students who want to experience living in Spain and enter into our culture and customs.

Accommodation
HOMESTAY: Every family is carefully selected and will treat the student as a family member. Families are at a maximum distance of 30 minutes from our centers. Students have their Spanish families and guardians besides an assigned personal assistant.