Carrer dels Cadirers, 5, 46003 València
About the school
Our Spanish school in Valencia is housed in the city's former Círculo de Bellas Artes (Fine Art Center), a fully renovated 15th century palace bursting with culture and old world charm. You will be able to learn Spanish with our passionate and experienced teachers right in the center of the city. You'll be inspired to learn in the historic building's 18 comfortable and bright classrooms equipped with the best educational resources, or while relaxing in its beautiful courtyards and gardens. Then when you leave class, you'll step out into the heart of it all, the city's El Carmen neighborhood, filled with both historical treasures and modern city excitement keeping you immersed in and enthralled by the Spanish language and culture.
1500 m2
Located in the center of the city, 10 min to the beach
Beautiful and historic building
18 modern and bright classrooms
Courses
We take a personalized and student-centered approach to teaching in which professors and students are actively engaged in the learning experience. You will join a supportive community which values your uniqueness and will guide you as you shape your own language journey.
Types of courses
Intensive Spanish Program
Private One-to-One Classes
Premium Program
Business Spanish
Gap Year
Internship Program
Spanish for 30+
Spanish for 50+
Exam preparation
Official Exam Preparation
Special courses
Winter break
Leisure Program
Family Program
International Summer Camp
Group courses
Customized Group Programs
Teachers
The enthusiasm, experience and professionalism of our more than four hundred teachers is guaranteed. Our teachers are highly qualified in teaching Spanish as a foreign language and they will help you learn the language in an enjoyable and effective way while you experience a new culture full of surprises and subtleties.
Accommodation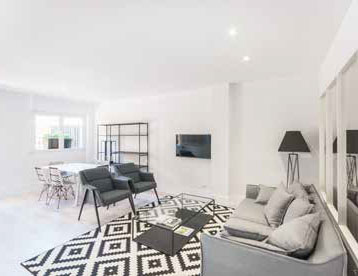 Host families.Most of our host families have worked with us since the very beginning, which says a lot about us. The families know from experience what the role of a good host is. Accommodation with a host family allows you to get the most out of your program by truly integrating yourself into local life. Experiencing real Spanish life everyday will help you quickly improve your Spanish skills. The word "family" should not be taken too literally because your family could be a single parent who takes in students because he or she enjoys the company or any other type of family. Also, keep in mind that many families live in apartments/flats rather than houses. Students will have their own keys so that they can come and go as they please. Also, phone calls can be received during your homestay.
Private apartment.This type of accommodation is ideal if you want to maintain your independence and enjoy a touch of 'luxury'. In every city, there are rooms of varying sizes and apartments from studios to multibedrooms.Apartments are fully furnished and equipped with a kitchen, bathroom, and all the necessary facilities. Internet access and Wi-Fi upon request.
Student residence.If you are looking for an inviting and well-equipped stay just a quick walk from your classroom, our student residences may be the ideal accommodation for you.
Shared student flat.In shared student apartments/flats you share a apartment/flat with four or five other students. We always do our best to accommodate you in a student apartment/flat with students of different nationalities. However, the common language is typically English. We suggest that you reach an agreement with one another to speak as much Spanish as possible.
Activities
Visit The City of Arts and Sciences
Excursion to Alicante, Peñiscola.
Las Fallas
Noche de San Juan
La Tomatina
Moros y cristianos
Normas
Minimum age of the student: 17 years.
Open all year long.