Hispania, escuela de español.
Calle Bernat y Baldoví 11, Valencia 46010, España
About the school
Hispania, escuela de español, is the school that has considered the recommendations of teachers and students to try to create the ideal school.
Currently our school is a world reference for teaching ELE, whose excellence is accredited by the most important national and international institutions, and recognized with the most prestigious prizes of the sector among all the Spanish schools in Spain and Latin America. All this proves the quality of our educational services.
Last year, more than 3,000 students from more than 80 different nationalities enjoyed a unique experience learning Spanish at our school. Find out why every year more students choose to learn Spanish in Valencia with us.
Description of the school and its facilities
In Hispania, escuela de español, our students enjoy the most modern facilities, clean, illuminated and open spaces, designed to learn the Spanish language. We have more than 30 classrooms, (distributed between the main headquarters or chalet and lecture rooms 1 and 2), central offices, library, study room, cinema, terrace and lounge for students.
Courses
Learn Spanish with the different courses we offer, according to the level and needs you have. Our Spanish teachers, a key part of our success, are native speakers with a specialty in teaching Spanish.
General Spanish Course: This is the ideal course to get a complete Spanish learning. Students in the General Spanish Course will learn the Spanish language through the study of grammar, vocabulary, elaboration of written texts, reading and listening comprehension, pronunciation, spelling and conversation.
Types of courses
Private Classes: It is the perfect course for those students who wish to learn to the fullest in the shortest time. In addition, this course can be done alone or combined with group classes.
Vacation Course: they are held during the summer period and are designed so that students improve their level of Spanish while enjoying a fantastic holiday on the Mediterranean coast of Spain.
Spanish Plus Program: allows specialized courses in tennis or cooking, with different levels of difficulty, combined with Spanish classes.
Workshops
Exam preparation
DELE Preparation Courses: It´s a specific course for the student to pass the DELE exam. It is based on the performance of DELE tests from previous years. The learning pace of this course is very fast and intense.
Special courses
Spanish Course for University Access – Standard Course: This is a 40-week Spanish course aimed at intensive preparation to ensure that students have access to study at the university, both bachelor´s and master's degrees.
Spanish Course for University Access – Access to Master UJI: The uniqueness of this course is that it takes place in the classrooms of the Universitat Jaume I (UJI) of Castellón, so during the Spanish course the students can live an authentic and total university immersion, with access to all the services of this university.
Spanish Course for University Access – PCE Preparation Course: The Specific Competency Tests (PCEs) appear, some optional tests that serve both EU students, as well as students of countries with agreements to improve their access to university and also to help to define their access route.
Courses and Workshops for Professional Training: These courses are customized for both individual students and groups, and can be combined with supervised practices, workshops for professionals and visits to companies.
Group courses
Personalized Linguistic Stays for Groups: Each year our school receives hundreds of students who travel in a group with their classmates to learn Spanish all together. You can choose the number of classes, accommodation, activities, transfers and everything the group needs.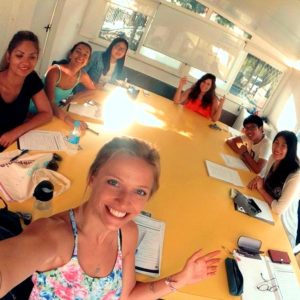 Teachers
ELE Teacher Training Courses: These are course-workshops where students learn the most innovative and effective teaching strategies followed by teachers from Hispania, escuela de español, – strategies that have been so well received by ELE students and professionals of linguistics.
Accommodation
Student flat: Students can stay in a single or shared room, and can choose to have a private bathroom and / or air conditioning. In this type of accommodation students have total freedom to organize their day to day.
Host family: It is the ideal accommodation to get a complete immersion in Spanish life and culture. Students can choose single or shared room, as well as half board or full board.
Residence Hall: Available for long-term individual students or groups of students.
Hotels, hostels or pensions.
Activities
Tour through the historic center of Valencia
Visit to the Fallero Museum.
Visit to the Oceanográfic
Visit to the Bioparc.
Visit to the Science Museum and L'Hemisfèric.
Visit to the Albufera de Valencia and boat ride.
Excursions to Calpe, Cullera, Cuenca, Madrid, Toledo, Barcelona, ​​Mallorca …
Flamenco show.
Language Exchange.
Games and sports on the beach.
Horchata tasting.
Workshop of Sangría, of Agua de Valencia or of flamenco.