José Gutiérrez Petén, 41. Alicante 03004
About the school
PROYECTO ESPAÑOL is a language school, specialized in Spanish for foreigners.
Our goal is to combine teaching the Spanish language and culture with fulfilling your holiday expectations at favourable prices. Our school is accredited by the "Instituto Cervantes" and accepted by CSN to receive students with Swedish state funded loans and grants to study abroad. And our courses with 30 hours per week are recognized as "Bildungsurlaub" in Germany (Berlin, Brandenburg, Hamburg, Hessen, Mecklenburg-Vorpommern and Rheinland-Pflalz). In 2010 we signed an agreement with the University Miguel Hernandez (www.umh.es) in Spain.
Our facilities are located right in the centre of Alicante just a few meters from the Central Market. Our students have free access to Internet and a library with Spanish literature at their disposal.
25 classrooms
Library (books for rental)
Placed in the city centre
Cafeteria and chill out area
WIFI
Download brochure
Courses
Conversation course
Intensive and Super intensive Courses
Bildungsurlaub course
Types of courses
Spanish for Business
Spanish for Tourism
Internship in a Spanish company
Teacher Training Courses
Private lessons
Special courses
Español de los negocios
Español para el turismo
Group courses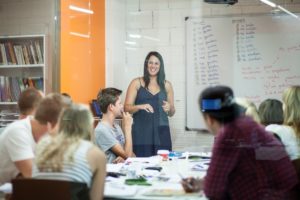 Teachers
Sabemos que para ti es importante no solo aprender español, sino pasarlo bien durante el proceso, es por eso que nuestro equipo de Profesores siempre está innovando con formas nuevas, retadoras e interesantes que te ayudarán a recordar lo que has aprendido.
Nuestros Profesores, nativos, titulados en Filología y con formación académica específica en ELE cuentan con la experiencia y capacidad de obtener lo mejor de cada estudiante siempre teniendo en cuenta sus necesidades específicas de aprendizaje.
Somos Centro Examinador Oficial del examen DELE y tenemos un porcentaje de aprobados superior al 90%. nuestros profesores son preparadores y examinadores de los exámenes DELE.
Accommodation
Different types of accommodation:
Shared flats with other students
Homestay
Activities
Weekly cultural events and sport activities
Weekly excursions all year round
Free Language exchange with Spaniards
Normas
Airport transfer
Medical Insurance