"Españolé life is fun and interesting, there are activities of all kinds and the classes are entertaining and productive. "

It is a privilege for us to be able to meet students from all over the world on a daily basis, we love to share our culture and even more, to see how they improve in the Spanish language.
At Españolé, we aim to make students enjoy a complete immersion, both in the Spanish language and in the Spanish life and culture, to achieve this we never stop working hard on our methodology, courses, activities, etc.
We would like to share with you the experience of one of our students: Linda, a 22-year-old German girl, so that you get to know better the meaning of "La vida Españolé",
Linda arrived at our school in February, but due to the pandemic she had to return to her country but decided to come back to Valencia in June. Her initial plan was to stay a couple of weeks, but she is still with us enjoying this unique experience.
Today we have had a coffee with her and we have taken the opportunity to talk and ask her some questions about her experience at Españolé International House. Linda has replied very kindly.
Here is the interview:
STUDENT INTERVIEW
Why have you chosen Valencia?
A friend of mine kept talking to me about Valencia and how wonderful the city was, so I finally decided to come and see it for myself and that's how it was, I fell in love with the city from the beginning.
What do you like the most about the city?
A bit of everything. The atmosphere, the buildings that I think are the most beautiful I have seen in my life, the Turia Garden, the people and especially the security I feel in the city. I feel at home.
Do you have a secret corner that you want to share with us?
Yes, many. For example, at the Barceló hotel, there is a rooftop bar, where you can enjoy a super nice view of the City of Arts. I also recommend the Saler area, wild beaches, nature and restaurants with delicious food.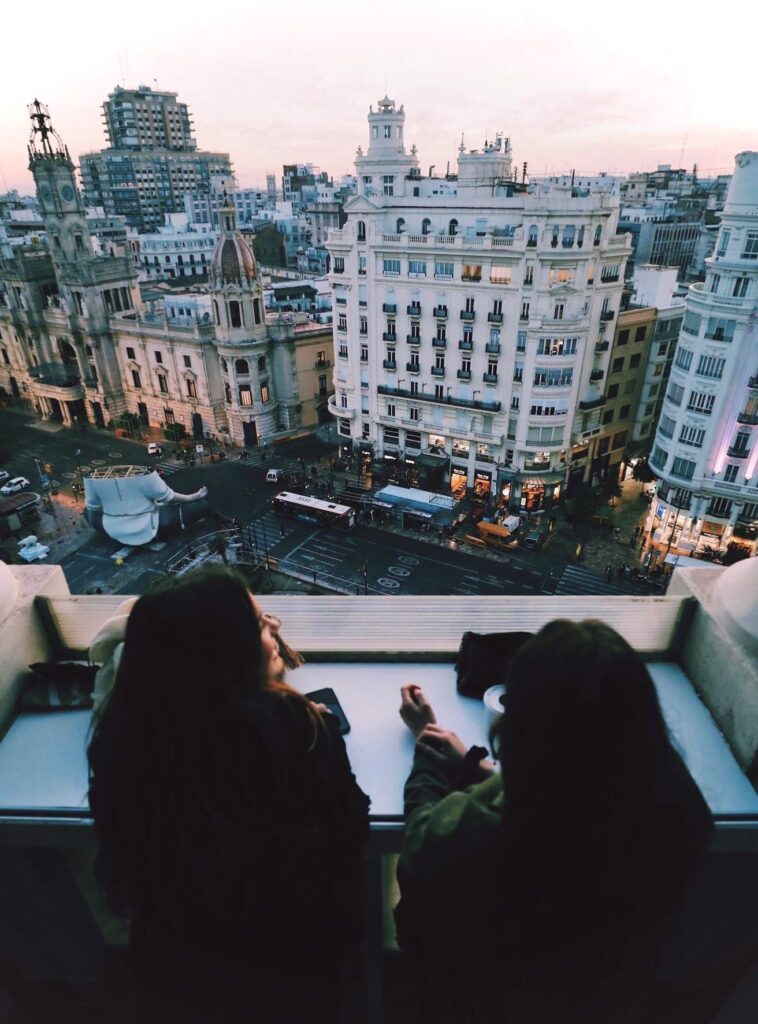 Do you remember your first day in Valencia and at school? How did you feel?
My first day in Españolé was exciting: I met some very nice people from the staff, ,they showed me the school (very nice !!), I also met the rest of students and made many friends.
Where are you staying? Are you close to the school?
I'm staying with a very friendly family. It's being an excellent experience. The house is close to the school. I like to go everywhere on foot and watch the city, especially the details of the balconies, in fact, I almost always walk with my nose up. Sometimes I go by bicycle to arrive quicker.
What do you think of the school? Do you like the Spanish life?
The school is a mix of old and new. A very nice building. The teachers are super good and kind. I am learning a lot, in addition there are activities every day, an opportunity to learn more about the Spanish culture and of course the language. I love the Spanish mentality.
What do you like most about the classes?
What I like most about the classes is that there are people from all over the world and of all ages. We can talk about our cultures and lives. I like meeting new people. Also, the classes are fun and go they by very quickly.
Have you participated in any of the school's activities? Which one is your favourite?
I have participated in many activities and they were all super fun. Dance and paddle surf classes are my favourites.
Would you like to share an anecdote with us?
Sure. One night a student invited us to a flamenco dance show that her roommate performed at the theatre. We were really looking forward to seeing it. When we got there and wanted to buy tickets, the ticket office told us that all the tickets were already sold out. We were saddened, but just when we were about to leave, the woman came up to us and said, "Wait a minute, maybe there is still a free seat." In the end we all enjoyed the show. We had the best seats and free tickets. Sometimes it's worth the wait!
Would you recommend the school?
Of course. Spanish life is very fun and interesting, there are activities of all kinds and the classes are entertaining and productive. A very good way to learn Spanish.
I recommend life to Españolé to everyone, you will surely like it!
Do you want to enjoy a complete linguistic immersion and live a unique experience like her? Contact us.
We wait for you!