CCSE
Proof of constitutional and sociocultural knowledge of Spain
CCSE exams and FEDELE CV schools: accredited centers
The test of sociocultural and constitutional knowledge of Spain (CCSE exam) is an exam prepared by the Cervantes Institute, which evaluates through different tasks, the knowledge of the Constitution and the Spanish social and cultural reality. It is one of the legal requirements for granting Spanish nationality for Sephardic Jews coming from Spain and for obtaining citizenship for residents in Spain, when applicable.
The following sources have been used by the Cervantes Institute as reference while preparing the CCSE tests:
Guidelines established in the Common European Framework of Reference for Language (CEFR) and the Manual for Relating Language Examinations to CEFR, both documents prepared by the Council of Europe
The Spanish Constitution and other sources of the Spanish public administration
Two of the Cervantes Institute inventories ("Cultural Benchmarks" and "Sociocultural knowledge and behavior")
Our FEDELE CV schools can provide you with information of how to do the exam and prepare you adequately for it.
Candidates
The Cervantes Institute accepts applications for CCSE exams from all those who pay the enrollment fees, regardless of their nationality and origin.
General CCGS tests are for literate students of all ages, although they are aimed for adults of 16 years of age or more.
Parents, tutors or legal representatives shall enroll minors of age or people without legal capacity to act.
Dates of CCSE exams in 2020
9 September 2019.
The test of sociocultural and constitutional knowledge of Spain is done during two exam sessions on the last Thursday of each month, at 6 pm and 8 pm (local time of the examination center).
It is essential to follow each of the following indications in order to enter the examination room and do the CCSE test which a candidate has enrolled for.
Venue: Los candidatos inscritos en la prueba CCSE deben presentarse en el centro de examen CCSE en el que se hayan inscrito y que figura en el resguardo de inscripción.
Day and time: The candidates enrolled for the CCSE should appear in the CCSE examination center on a day for which they have signed up and at the time indicated by the examination center (at latest at 5:30 pm and 7:30 pm respectively, depending on their enrollment), in accordance with the local time zone of the examination center.
Prior to the exam (6:00 pm or 8:00 pm), the candidates must be identified and receive instructions regarding the exam procedure given by the administration personnel.
Documents that the candidates must bring along:
Enrollment receipt which they have received by electronic mail.
Original valid passport.
Dates of CCSE exams in 2020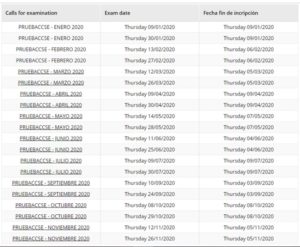 All the information can be found on the Cervantes Institute official website:
https://examenes.cervantes.es/es/ccse/que-es
You can visit any of our FEDELE CV schools where all information necessary to do the exam is available.
Should you have any doubt, do not hesitate to contact the FEDELE CV Association:
email: info@fedelecv.org
 [/vc_column_text][/vc_column][/vc_row]